Mini job-fair for students
---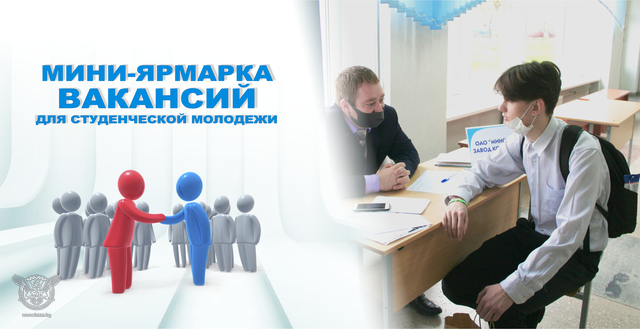 On November 12, 2020 the Committee on Labor, Employment and Social Protection of the Minsk City Executive Committee held a mini-fair of vacancies for the cadets of the Academy of Aviation.
The guys got a unique opportunity to get correct information about the vacancies and working conditions offered by employers, get advice from specialists from the state employment service and representatives of the personnel services of organizations and even pass a preliminary interview for part-time job in their free time.
The event was attended by many organizations of Minsk, including: "Belpochta", JSC "MAZ", LLC "Delivery PLUS".
The cadets were offered over a thousand vacancies in such professions as locksmith, turner, grinder, postman, service provider, courier, etc. Thus, the event was useful for the cadets, as they were able to know about the possibility of extra income.
And those who didn't have time to get to the mini-fair can find detailed and up-to-date information on the availability of vacancies on the Public Employment Service Portal.
---
Information prepared by:
Diana Tarbeckaya, specialist of the Editorial and Publishing Department, photo by Valeria Gaeva
To main